PROGRAM
Take Action for Power Fellowship
Between a sweeping global pandemic, systemic racial and gender oppression, growing wealth inequality, and a growing climate crisis, the past several years have demonstrated the extraordinary failure of our existing systems to support the full humanity of our people. It's clearer than ever: to achieve real equity, we will need powerful, broad-based social movements that can take action at many levels.
At the Funders' Collaborative on Youth Organizing (FCYO), we believe that young people, especially those most directly impacted by injustice, have a critical role to play in catalyzing these social movements. Grounded in racial, gender, and economic justice, youth organizing is the process of engaging young people in building power for systemic change while supporting their individual and collective development. Since 2000, FCYO has helped to build a stronger youth organizing field by bringing together funders and youth organizers to ensure that young people have the resources, capacities, and infrastructure they need to fight for a more just and democratic society.
There is a whole generation of young people ready to make some serious changes.
This current moment has mobilized a whole generation of young people across the country who are hungry for transformation and committed to its realization. Young people are stepping into the frontlines, taking on critical leadership roles, mobilizing their communities, shepherding social movements, and securing exciting changes. Much of this activation is happening outside of traditional organizations, with many young people not connected to the broader social movement and leadership development infrastructure.
The Take Action for Power Fellowship
At FCYO, we see a need for opportunities for newly mobilized leaders to come into closer connection with one another and the youth organizing field as a whole. We've created this fellowship to develop the capacity of young people for strategic thinking while building in collective ways. We are so excited by the possibilities of expanding our community in this way, which is why we are launching the Take Action for Power Fellowship.
The Take Action for Power Fellowship is a year-long leadership development program designed for emerging organizers ages 18-24 passionate about social justice and transformative systemic change. Through the Fellowship, organizers will receive political education and organizing training, opportunities for collective practice, a peer learning community, and financial resources that will support them to build and implement a social justice project in their own community. This program is about building collective leadership and requires fellows to apply and jointly work on a project in pairs or a group of three. Specific supports offered by the Fellowship include:
A peer Learning Community
Project Development Support and Resourcing
Through these core components of the Take Action for Power Fellowship, it's our goal to build a national learning community of grounded youth organizers who hold sharp political analyses, a commitment to collective practice, and the skills to build our communities' power to fight for the changes we need and deserve.
Learn about our 2022-2023 cohort here.
Related Resources
webinar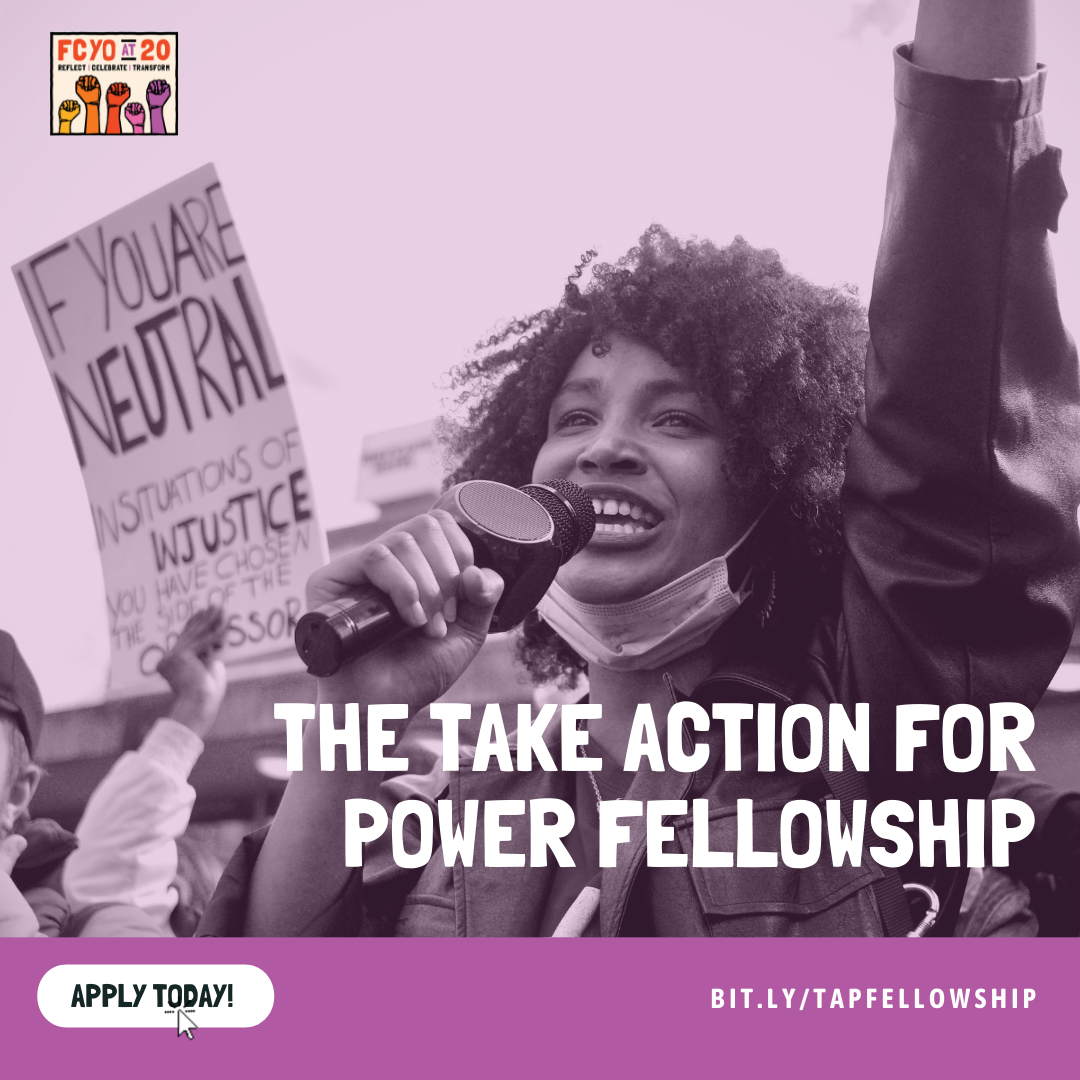 Check out the recap of the Take Action for Power Fellowship Informational Webinar
News From This Program
Program News

We're excited to welcome our 2022-2023 Take Action for Power fellows to the FCYO family! These young people are stepping into the frontlines, taking on critical leadership roles, and mobilizing their communities.