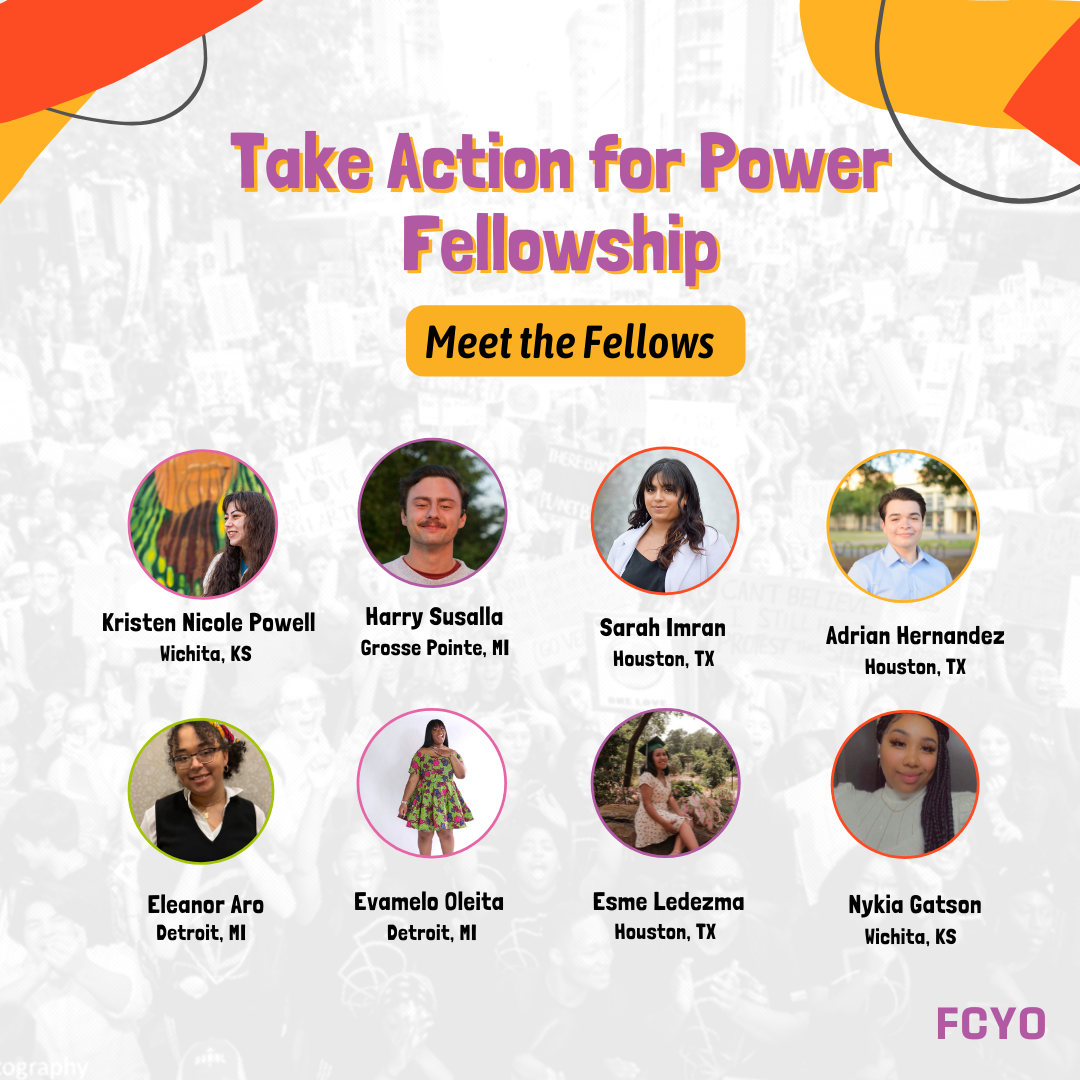 Meet our 2022-2023 Take Action for Power Cohort!
At FCYO, we believe that young people, especially those most directly impacted by injustice, have a critical role to play in catalyzing these social movements.This current moment has mobilized a whole generation of young people across the country who are hungry for transformation and committed to its realization.

We see a need for opportunities for newly mobilized leaders to come into closer connection with one another and the youth organizing field as a whole. We've created the Take Action for Power Fellowship to develop the capacity of young people for strategic thinking while building in collective ways. We are so excited by the possibilities of 2022-2023 cohort.
These young people are stepping into the frontlines, taking on critical leadership roles, mobilizing their communities, shepherding social movements, and securing exciting changes. We're proud to welcome them to the FCYO family! Get to know them below.
---

Eleanor Aro, is a 19-year old organizer from Detroit, MI. She first became interested in organizing around environmental justice issues which has remained a passion for her. Over the years, she has come to realize how essential youth organizing and involvement is in any movement, and would like to continue to encourage youth to get involved as she grows older.
Nykia Gatson is passionate about juvenile justice reform and has been organizing around juvenile justice reform for over 3 years. Based in Wichita, Kansas, she hopes to empower other youth to be a voice in their communities and reimagine the system. She loves singing and basketball.
Adrian Hernandez is a college student attending the University of Houston. He is majoring in Political Science as well as double minoring in Spanish and Law, Values, & Policy. Although born and raised in Mexico, he has lived in Houston for 12 years; throughout this time he has fostered a love and continues to expand his knowledge of the city of Houston.
Sarah Imran is a 21 year old senior at the University of Houston, seeking a Bachelor of Science double major in Economics and Political Science. A child of Pakistani immigrants, she was born and raised in Houston, Texas, which directly impacted and paved the way for Sarah's passion for social justice and community work. She strongly feels marginalized communities should be provided with equitable solutions to ensure they are receiving the same resources and opportunities as others.
Esme Ledezma was born and raised in Houston, TX and is studying Sociology and Mexican American Studies at the University of Houston.From helping unionize workers at Bush Intercontinental Airport to helping organize and empower high school students in the political process at the peak of the COVID-19 pandemic, community organizing and advocacy has influenced almost every aspect of her life and become her passion.
Evamelo (Eva) Oleita is a rising sophomore at Michigan State University majoring in Sociology and Social Relations & Policy. She is the co-founder of Black Lives Matter In All Capacities (BLMIAC). Eva is passionate about social justice and her main areas of focus are on the criminalization of Black girls (push-out), education reform, healing justice, and the abolishment of the prison industrial complex.
Kristen Nicole Powell is 24 years old, from San Antonio Texas and currently lives in Wichita, KS. She is passionate about reforming the foster care, juvenile justice, and criminal justice systems, as well as the anti-trafficking movement. She is the mother of three toddlers.
Harry Susalla was born and raised in Grosse Pointe, a suburb directly to the east of Detroit, Michigan. From the age of 16 he began community organizing in his highschool and at the age of 17 started organizing with youth across all of the Detroit Area. His original organizing work was within the queer, anti-racist and gun violence protection movements. Through that work he has found a passion for researching and organizing around the educational inequalities that BIPOC and other marginalized youth face.