PROGRAM
Learning & Exchange Fund (2016 -2017)
Overview
Youth organizing groups across the country have articulated interest in opportunities to engage in shared learning, strategic alliance building and collective strategy development as the youth organizing field becomes more powerful and diverse. The Funders' Collaborative on Youth Organizing recently established the Learning and Exchange Fund to provide support for shared learning opportunities, and to respond to organizers request for support to refine their organizing strategies considering the current political moment. We are excited to support over 40 learning opportunities and exchanges of youth organizing groups across the country.
Youth organizers have been at the forefront of creating and fortifying movements for social change. Through powerful organizing and movement building efforts, youth leaders have achieved meaningful change that has improved the living conditions of immigrant communities, black and brown youth, LGBTQ communities and working families. The current political landscape poses threats to these very communities as they continue to fight for racial, economic and social justice in the face of policy agendas that attempt to deny basic human rights. We are living in a powerful moment in which opportunities to create spaces for youth organizers to learn from each other and hone organizing strategies are critical to the sustainability and growing power of youth led organizing work.
The Learning and Exchange Fund will support groups engaging young people in this important work to connect with each other and strengthen their organizations at this critical moment. The Learning and Exchange Fund is part of FCYO's Youth Community Organizing Resource Exchange (Youth CORE) program. Youth CORE is a set or regular learning and relationship building opportunities designed to support a more powerful and interconnected youth organizing field. Learning and Exchange Fund grantees will be encouraged to share lessons learned with the broader field through other Youth CORE activities.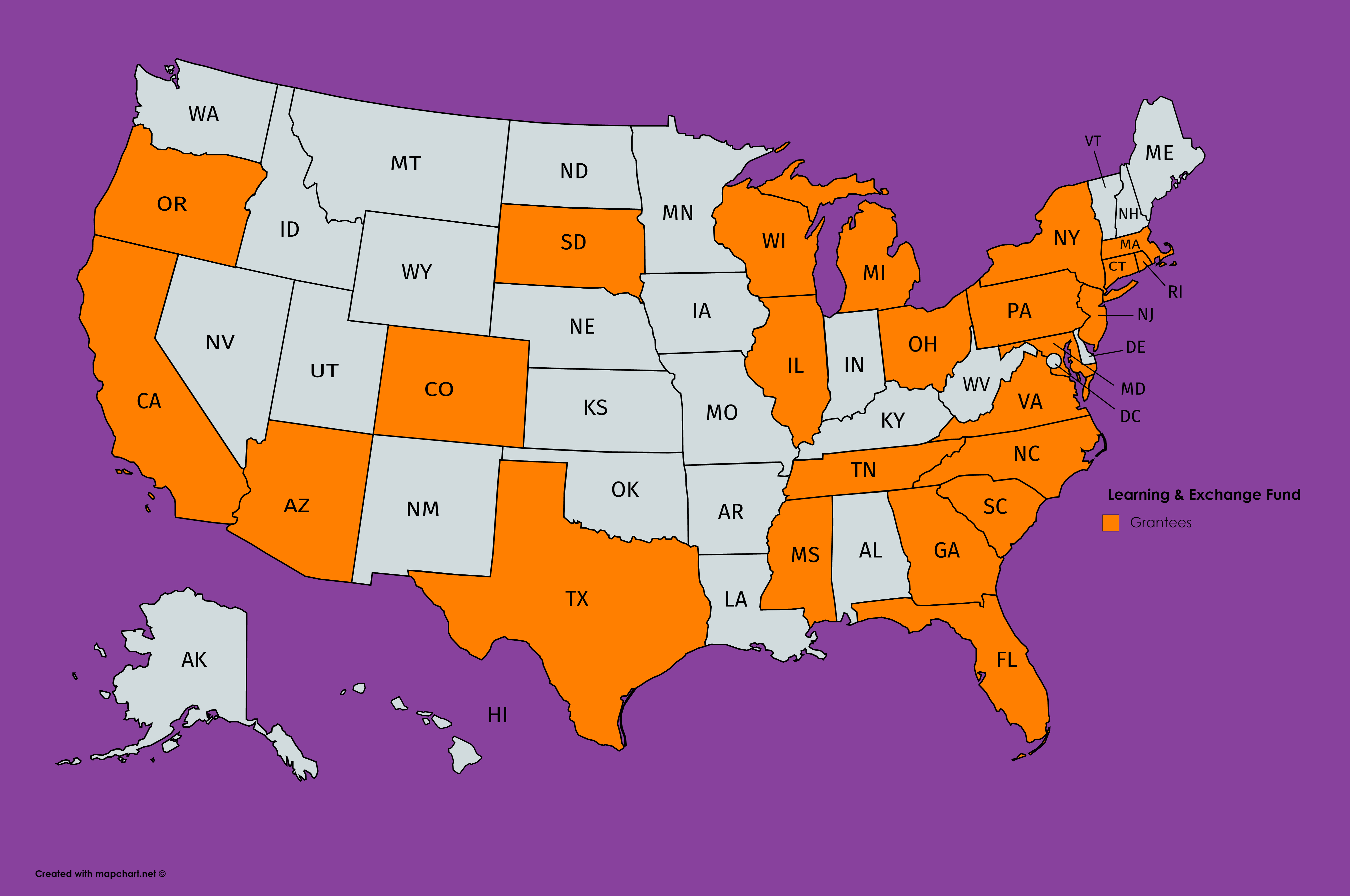 Grantees:
482 Forward (Detroit, MI)- Will attend the SOUL Youth Organizing Institute to provide an opportunity for leaders to build relationships with experienced youth organizers, strengthen their organizing skill sets and train more leaders when they return to Detroit.
Asian Americans United (Philadelphia, PA)- Will engage in Peer-to-Peer learning exchanges to create multi-lingual spaces for youth groups to come together and share and learn about the struggles various communities are facing and to find common ground on issue work and potential collaborations.
Activists with A Purpose (Grenada, MS)- Will host a convening about the value and power of organizing to challenge, resist and change structures that create inequality and examine both broader and local Civil Rights History.
Alliance for Education Justice (National)- Will bring together 6 youth organizing groups from across the country to create a shared strategy to remove police from schools and institute restorative justice. This collaboration includes the following groups: Philadelphia Student Union, Urban Youth Collaborative (NYC), Power U (Miami), Black Organizing Project (Oakland) and Labor Strategy Center.
APANO (Portland, OR) APANO, along with Asian Americans United in Philadelphia, Chicago KRCC (Korean American Resource and Cultural Center), and Korean Resource Center in Los Angeles, in San Francisco are organizing a 3- day National Asian American youth organizing retreat.
AYPAL (Oakland, CA)- Will play a lead role in the planning and implementation of the Grassroots Asians Rising Convening of national coalitions to build relationships, long-term infrastructure, and to advance the racial justice movement through sharing models.
Baltimore Algebra Project (Baltimore, MD)- Will bring students from the June Jordan School for Equity (JJSE) in San Francisco and the Fannie Lou Hamer Freedom High School in the Bronx, New York to Baltimore for the Free Minds, Free People Conference to determine future shared work opportunities.
Carolina Youth Action Project (Charleston, SC)- Will partner with the Community Justice Network for Youth for a learning tour with organizing groups, restorative justice hubs and cultural organizing programs run by and for youth in Chicago. The partnership will provide an opportunity for the Carolina Youth Action project to learn from groups working to end the school to prison pipeline, and from youth organizing with LGBTQ youth.
Chicago Freedom School (Chicago, IL)- The Chicago Freedom School, Illinois Caucus for Adolescent Health, and Chicago Desi Youth Rising will create a collaborative learning space for Black, Latinx, and South Asian youth ages 15-20 to build new networks, analyze this current political moment, share strategies for resistance, and strengthen community organizing skills.
Coleman Advocates for Children and Youth (San Francisco, CA)- Coleman's Youth Making a Change will participate in a peer-to-peer learning exchange with Labor Community Strategy Center and Project South to strengthen leadership development and recruitment strategies.
Community Coalition (Los Angeles, CA)- Will engage in a learning exchange with 3 partner youth organizing groups around base-building and issue development to help inform a South LA youth-led public safety platform, and to strengthen coalitions and solidarity among organizing groups.
Connecticut Students for a Dream (Bridgeport, CT)- Will engage in a learning exchange to learn how to effectively implement a school-based chapter organizing model in the high schools.
Cypress Hills Local Development Corporation (Brooklyn, NY)- Future of Tomorrow (F.O.T.), will engage in a peer learning exchange with Power U (Miami) to learn about their successful campaign to implement restorative justice practices in Miami-area high schools.
Desis Rising Up and Moving (DRUM) (Jackson Heights, NY)- DRUM and other Dignity in Schools Campaign New York member organizations (with support from Global Action Project (G.A.P.), will take part in an intensive digital media training institute to support campaigns that combat the school-to-prison pipeline.
Fathers & Families of San Joaquin (Stockton, CA)- FFSJ and MILPA (Motivating Individual Leadership for Public Advancement) will engage in shared learning opportunities to support organizing and movement building strategies around efforts of formerly incarcerated youth and young adults working to dismantle the school-to-prison pipeline.
FIERCE (Bronx, NY)- Will coordinate a site exchange in California, North Carolina and/or New Orleans to develop strategic direction for redefining sanctuary cities and strengthening protections from the next wave of federal public policies.
Florida's Children First (Florida Youth SHINE Program Coral Springs FL) and Georgia EmpowerMEnt (Atlanta, GA)- Will engage in a peer to peer learning exchange with Georgia EmpowerMEnt to expand the knowledge their current youth organizing efforts, and learn valuable skills to better the child welfare system.
Grow Hartford Youth Program (Hartford, CT)- Will attend SOUL organizing training to advance learning on organizing tactics, base building and strategy. They will also host an "un-conference" with 4 organizations to unify demands around equity for youth in Hartford.
InnerCity Struggle (Los Angeles, CA)- Will engage in an internal strategic planning process to strengthen intergenerational organizing approaches and develop a structure for increased participation of Eastside voters.
Make the Road New York (Brooklyn, NY)- Will hold a 3-day retreat to bring together youth leaders from chapters in NY, NJ, PA, and CT develop new strategies to build their organizing skills, as they envision a multi-state, regional approach to resisting the new administration's policies on immigration, education and policing.
Mixteco/Indigena Community Organizing Project (Oxnard CA)- Will engage Ventura County social justice youth groups serving Latino/immigrants to form a youth coalition that is trained and ready to confront issues they face in the current political climate.
Native American Community Board (Lake Andes, SD)- Will train Native American (Yankton Sioux) youth aged 14-24, in working to address social change issues and share this learning with the greater social change and youth organizing fields.
New Jersey Communities United (Newark and Camden, NJ)-Will convene chapters of youth organizers from Newark and Camden to create a unified state movement to protect public education.
Ohio Student Association (Ohio)- Will develop a collective strategy for protecting vulnerable communities in Ohio, learn skills on rapid response organizing, and build a network of people resisting recent policies into a collective strategy of resistance in Ohio.
Padres & Jovenes Unidos (Denver, CO)- Will provide an intensive on-site training in community organizing with the Midwest Academy for youth organizing staff and youth members.
Providence Student Union (Providence, RI)-Will convene a cohort of 5 youth organizations to strengthen their movement building work by training with Momentum Institute.
Providence Youth Student Movement (PrYSM Providence, RI)- Will work to build long-term relationships with organizations to help PrYSM connect the local experience of gang profiling with strategies to address current political moment.
Philadelphia Student Union PSU (Philadelphia, PA)- Will engage in a capacity-building initiative, including consultation with a social justice trainer and consultant, centered around transitioning leadership.
Puente Movement (Phoenix, AZ)- Will host a 2-day conference for youth organizing groups to create a campaign to end policing in schools while bridging the gap between juvenile justice and immigration organizing work.
PUSH Buffalo (Buffalo, NY)- Will train and empower a Youth Action Team comprised of immigrant youth and youth of color to organize around racial, economic and environmental justice. Trainings will include coalition and base building and campaign development considering the current political climate.
RYSE Center (Richmond, CA)- Through its Love & Rage in Action Series, RYSE will provide workshops, clinics, organizing meetings and action planning to prepare, respond to post election attacks.
Southwest Workers Union (San Antonio, TX)- Will launch a student and teacher learning exchange to deepen relationships for collaborative planning towards intersecting youth issues in the public education system.
The STAY Project (New Market, TN)- Will work with Highlander's Seeds of Fire program to strengthen connections between youth in Appalachia with youth organizing groups across the south to build a broader regional effort that connects rural and urban youth.
Student Action with Farmworkers (Durham, NC)- Will engage in a learning partnership with youth from New York (Rural & Migrant Ministry's Youth Arts Group- YAG) to learn a multi-racial model of engaging young people in the farmworker and rural worker justice movement to expand its capacity to engage in intersectional work.
Student Immigrant Movement (Boston, MA)- Will engage regional youth-led organizations (focusing on immigrant youth constituents) to build a strong organizational structure and defense model to protect against attacks from the Trump Administration.
Tenants and Workers United (Alexandria, VA)- Will participate in a learning exchange with Desis Rising Up and Moving that will provide political education and campaign skills development to build a new generation of working class community leaders. Will also send organizers to SOUL organizing institute.
UPROSE (Brooklyn, NY)- Will collaborate with the Ruckus Society to lead a Direct Action training for Youth Justice members to introduce youth of color to non-violent, creative direct action methodology.
VietLead (Philadelphia, PA)- Will develop a leadership pipeline model and training modules to replenish organizational leadership and leadership for the broader movement.
Voces de la Frontera (Milwaukee, WI)- Will send organizers to SOUL National Youth Organizing Institute training, and will develop a youth retreat and training for high school students in Wisconsin.
We the People of Detroit (Detroit, MI)- Will attend SOUL Organizing Training Institute to learn organizing skills, strategy development and base building. They will also develop a share back session for youth leaders.
Workers Dignity (Tennessee)- Will work with other local partners to build an immigrant defense program for neighborhoods and workplaces, and to build a network of allies to support organizing efforts.
Young Women's Freedom Center (San Francisco, CA)- a learning exchange between young system involved women and regional organizations to strategize, identify priorities and build power to lead the fight for justice.
Youth on Board (Boston, MA)- Will partner with youth organizations in the Northeast to respond to current political moment through political education/analysis, relationship building and building a unified base.
Youth Organizing Institute (Durham, NC)- Will engage in a learning exchange with the Southern Vision Alliance to visit groups in South Carolina and Georgia to expand their network and build key relationships needed to explore a southern regional formation or campaign.