PROGRAM
Healthy Communities Phase II
Young people are once again on the front lines of social change in our country. Across the United States, public school students are raising their voices for healthy and fresh school meals and snacks, safe places to play and exercise, strong school food standards, farm-to-school programs, school wellness centers, and a seat at the table when it comes to food and wellness policy decisions in their schools and communities.
Taking the lead from these amazing youth leaders, in 2014 the Funders' Collaborative on Youth Organizing (FCYO) launched the second, two-year phase of its Healthy Communities initiative: Youth for Healthy Schools. With support from the Robert Wood Johnson Foundation, this initiative supports low-income young people and young people of color organizing to address the root causes of childhood obesity, connecting their local campaigns to statewide and national strategies.
FCYO understands that youth often lack meaningful opportunities to have their voices heard despite being critical stakeholders in education, wellness and nutrition policy. Youth for Healthy Schools uplifts and connects youth advocacy and organizing campaigns to amplify their reach and impact and inject youth voices directly into the national conversation about childhood obesity, school nutrition standards, and the health and wellness of poor communities and communities of color. The fresh ideas and energy of the young people of Youth for Healthy Schools can be a driving force for change and the creation of a culture of health that allows every child to grow up at a healthy weight.
The foundation of Youth for Healthy Schools is a fellowship program connected to seven youth organizing groups that are working to address school wellness. Each group will host a Healthy Communities Fellow who will support the groups' local work and connect it to state and national strategies for change including community education and engagement and policy development and implementation. To ensure young people from across the country have a voice in the debate the initiative is also engaging an additional eight partner organizations that will take part in technical assistance and training opportunities to build the power of youth voice.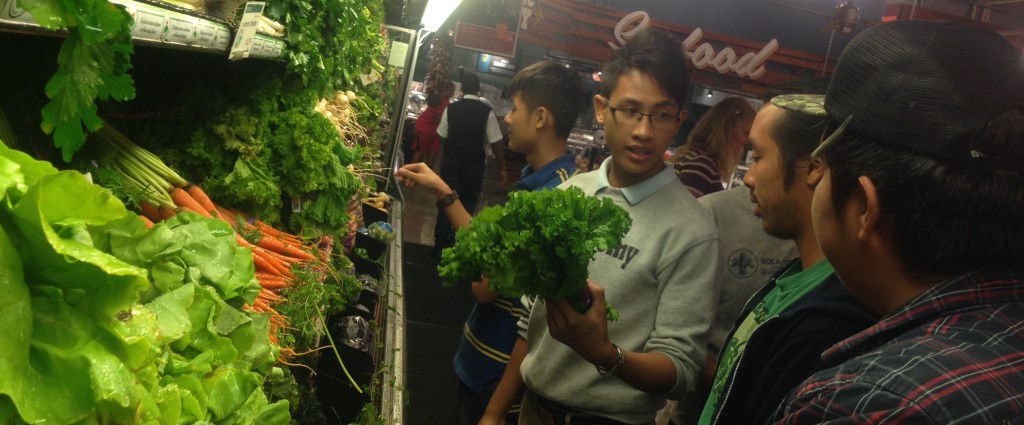 Victories from Healthy Communities II
The leaders from HC2 created, organized for and won real improvements in school and community wellness, positively impacting the lives of thousands of youth and families across the country
In New Orleans, Chika Kondo of Kids Rethink New Orleans Schools and a Youth for Healthy Schools Fellow was a leader in building a youth of color farmer collective of Black, Latinx and Asian youth. The Veggi Farmers Cooperative develops skills and knowledge about how school food fits into the broader food justice and sovereignty movements through the lens of cooperative economics. In addition to growing fresh food that is culturally relevant they held a Monsanto Day of Action and are working on a Decolonizing Food Cookbook that features culturally relevant recipes from their Mexican, Honduran, Vietnamese and African-American youth.
Padres y Jovenes Unidos (PJU) in Denver, with the leadership of YHS Fellow Isaías Vasquez, successfully fought to improve school food at Kepner Middle School in Southwest Denver securing more variety, more side and hot options and three more fresh fruits at their salad bar. Kepner serves predominantly low-income youth of color. The work at Kepner was part of a larger social investigation that engaged 47 parents and eight youth in touring 16 school kitchens and tasting cafeteria food in eight Southwest Denver schools which serve primarily low income youth of color and eight in other neighborhoods. The social investigation will culminate with the soon to be released "Health Injustice Report".
Jennifer Maldonado, YHS Fellow with InnerCity Struggle (ICS) in Los Angeles, developed educational and training materials related to the implementation of the historic passage of the Wellness Centers Now! Resolution, which allotted $50 million for the construction of wellness centers in high-need schools. Jennifer and ICS youth helped educate and mobilize hundreds of parents and community members to secure full implementation of the Resolution securing community-centered schools.
Grow Hartford Youth Program, a Youth for Healthy Schools partner organization, launched its "10 Slices of Justice" campaign with a 10-pont platform of demands for improvements in school food, more youth voice in school food decisions, and locally sourced food. Achievements included menu changes in two schools, successful publication of two op-eds, and the re-opening of a greenhouse that had been out of use for 10 years.
Youth United for Change in Philadelphia organized to get their City Council to pass legislation calling for a water assessment in all Philly public schools. City Council also passed legislation that reinforces the plumbing code that every district school has and maintains a ratio of 1 working water fountain per every 100 students, per floor. Additionally, because of their organizing the School District of Philadelphia diverted funds from its $88 million surplus from the previous fiscal year towards securing 3 brand new hydration stations for every school in the district.
Youth Empowered Solutions, a Youth for Healthy Schools partner organization in North Carolina, is advocating and mobilizing to pass the Healthy Corner Store Initiative in North Carolina. This initiative would put fresh fruits and vegetables into convenience stories that don't currently have them. They are also working to pass healthy food finance legislation.
Southwest Organizing Project in Albuquerque is working with six pilot schools in the South Valley and International District on a Food Justice Campaign to build community and sustainability around gardens at schools. They hosted visioning, educational and community-building sessions at each school throughout 2016, and developed a community-based vision of local food purchasing and education in schools to present as an Albuquerque Public Schools district plan.
The Baltimore Algebra Project was successful in April of 2016 in helping to establish the first ever shared use agreement for Baltimore City Public School System. Prior to this effort, there had never been a policy that guided the sharing of school space with the community at large. The policy includes: a) a mandatory 3000 sq. ft. of shared use space to be built into each of the new/renovated school buildings, designed by the community, b) increased public access hours of the community space: 1pm-9pm on school days and 8am-8pm on weekends, c) the removal of the school's ability to exercise a "fee" for space usage for the purposes of generating income, and d) pre-approval for community organizations to sponsor community events.
Southwest Workers Union in San Antonio secured 53 changes to the school district food menu including more fresh vegetables, whole grains, and vegetarian options.