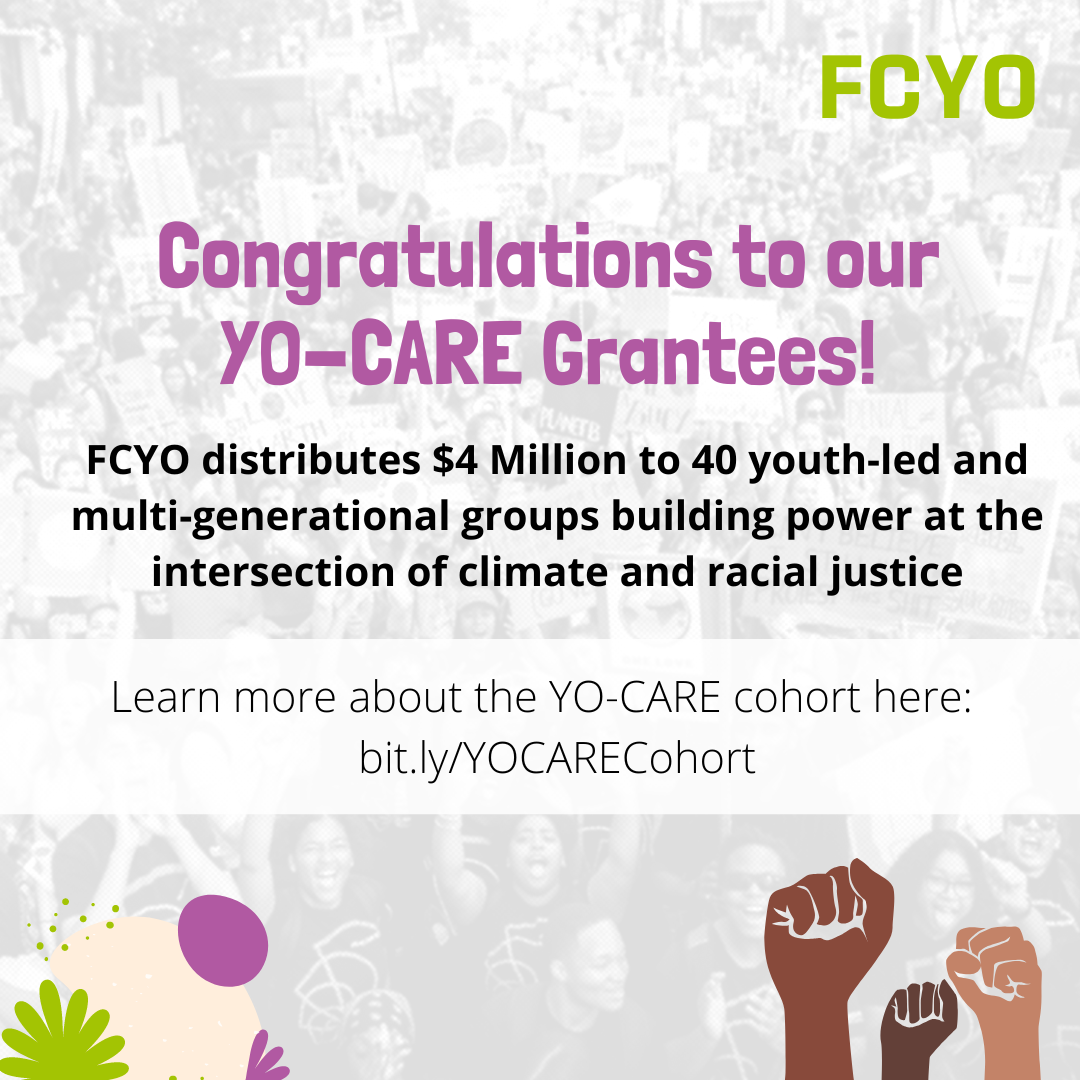 FCYO distributes $4 Million to 40 youth-led and multi-generational groups building power at the intersection of climate and racial justice
October 25, 2022
Today the Funders' Collaborative on Youth Organizing, in partnership with The JPB Foundation, announced an inaugural cohort of 40 grant recipients for the Youth Organizing For Climate Action And Racial Equity (YO-CARE) Capacity-Building Fund.
YO-CARE is a year-long learning community that will support youth organizers from racial justice and climate justice organizations in deepening their analyses of the root causes of climate injustice and racial inequality while developing and sharpening their organizing capacities through workshops, trainings, and individual organizational coaching support. This cohort includes organizations that have experienced climate disasters or environmental racism. It will directly provide a general operating grant of $100,000 to 40 primarily BIPOC youth-led and multi-generational organizations at the forefront of these social justice movements.
"The leadership of youth organizers from communities most harmed by environmental racism is essential to fighting climate injustice," said Kaleia Martin, FCYO program manager. "Our current moment demands that we meet the climate crisis with an intersectional, racial justice lens. YO-CARE will equip young people of color, and poor and working-class people from frontline communities with the resources they need to address the climate crisis. The organizations in this cohort are committed to leading their racial justice work with a climate justice analysis."
Participants will learn about power building from experienced practitioners, share lessons with each other, and receive support to develop and implement an individualized strategy for building the power to achieve their vision for their community.
"I really appreciate being in a national-level cohort to see what is similar and what is different about our organizing approaches," said Tosh Pyakuryal of Florida Student Power. "We are in the Southeast where conditions are really challenging both with natural disasters and politically, so learning about what other groups are doing gives us room to imagine what is possible with our organizing."
You can learn more about the Youth Organizing For Climate Action And Racial Equity (YO-CARE) Capacity-Building Fund here.
The 40 organizations selected for YO-CARE's inaugural cohort are:
Alternatives for Community and Environment

Arab Resource and Organizing Center

Asian American Organizing Project

AYPAL: Building API Community Power

Chispa Arizona

Chispa Education Fund

Congress of Communities

Detroit Area Youth Uniting Michigan

East Yard Communities for Environmental Justice

Florida Student Power

FRESH New London

Hawaiʻi Peace and Justice

HUBitual Learning & Outreach Inc.

ISAIAH

JUNTOS

Kentucky Student Environmental Coalition

Latinos Unidos Siempre

Los Angeles Young Workers

LOUD For Tomorrow

Maine Student Action

Make the Road Connecticut

Men and Women United for Youth & Families

Mississippi Citizens United for Prosperity

New York State Youth Leadership Council

People Organizing to Demand Environmental & Economic Rights

Philadelphia Student Union

Progressive Maryland Education Fund

Semillas Arizona

South Bay Youth Changemakers

Students Deserve

Sustainable Georgia Futures

Tennessee Immigrant and Refugee Rights Coalition

The Semilla Project

Together for Brothers

Voces De La Frontera/Youth Empowered In The Struggle

Young People for Progress

Youth Ministries for Peace & Justice, Inc.

Youth Rise Texas

Youth Vs Apocalypse

482Forward
###
About FCYO:
The Funders Collaborative on Youth Organizing brings funders and youth organizers together to ensure that young people have the resources, capacities, and infrastructure they need to organize for a more just and democratic society. Over the last twenty years, we have helped to build a strong and vibrant youth organizing field across the United States. We have deep relationships with both youth organizing groups and philanthropy, the capacity to move resources to grassroots groups across the country, and the ability to help groups connect and build the capacities needed to address the challenges of this moment.