Funder Briefing - Youth POWER in the Southwest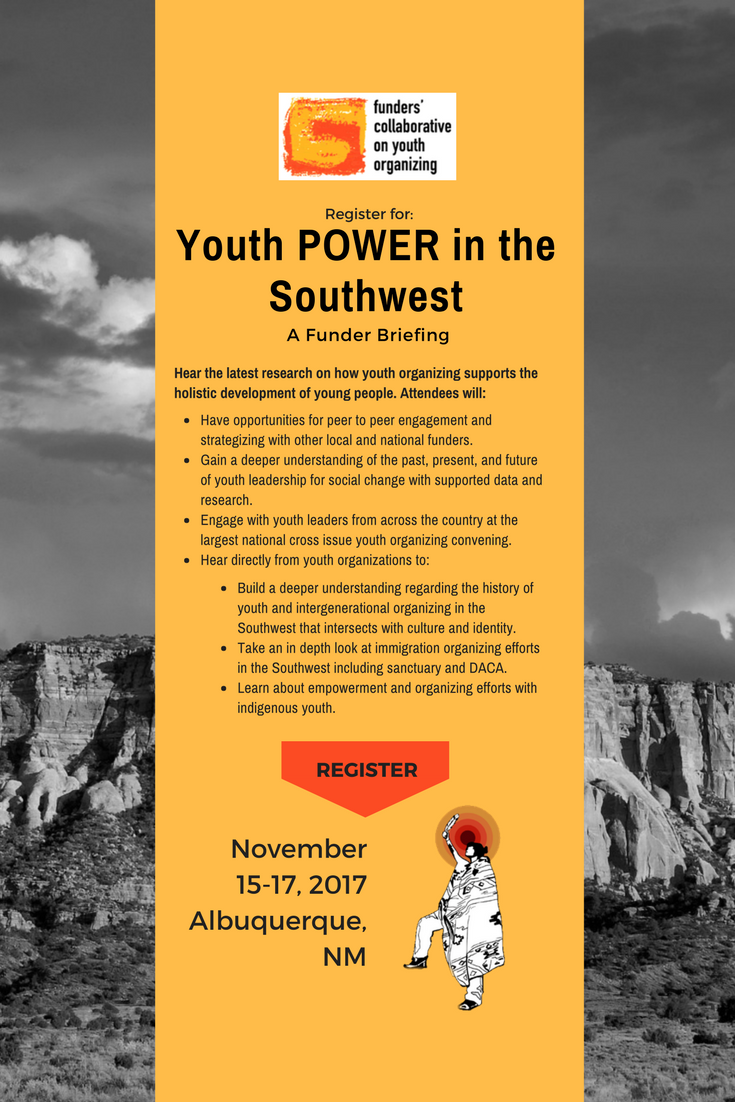 Registration is open until Friday, October 27th!
FCYO is excited to hold it's second regional briefing on November 15-17, 2017. This briefing will have funder-to-funder activities and opportunities to participate alongside young leaders from across the country in FCYO's second national YouthCORE convening: Youth Power 2017: From Rooted Resilience to Rising Power (taking place November 16-19).
FCYO is collaborating with the W.K. Kellogg Foundation and will seek to update the Southwest Story, uplifting youth organizing across New Mexico, Arizona, Colorado and Texas.
AGENDA
Wednesday, November 15th-Indian Pueblo Cultural Center (2401 12th St NW)
Time

Agenda Item

4:30pm

Transportation to Indian Pueblo Cultural Center from Crowne Plaza Hotel

5:00pm

Welcome

5:15pm

Guided Tours at Indian Pueblo Cultural Center

6:00pm

Native Dance Performance

6:30pm

Reception & Dinner

7:30pm

Panel Discussion:

The New Mexico Story: Grounding Us in a History of Youth and Intergenerational Organizing




Moderator: Robby Rodriguez, W.K. Kellogg Foundation

Panel:

Frank Sanchez, Needmor Foundation

Roberta Rael, Generation Justice

Amanda Gallegos, SouthWest Organizing Project (SWOP)

Tracy Nguyen, New Mexico Asian Family Center

Moneka Stevens-Cordova, Health Leadership High School

9:00pm

Dessert & Coffee

9:15pm

Bus load back to Crowne Plaza Albuquerque
Thursday, November 16th-Crowne Plaza Hotel (1901 University Blvd NE)
Time

Agenda Item

8:00am

Breakfast

9:00am

Welcome & Cultural Opening: Youth Poets

9:45am

Panel Discussion: Youth Organizing as a Triple Bottom Line Investment




Presenter & Moderator: Eric Braxton, FCYO

Panel:

Manuela Arciniegas, Andrus Family Fund

Luna Yasui, Ford Foundation

11:00am

Break

11:15am

Panel Discussion: Youth on the Frontline of the Anti-Immigrant Resistance




Moderator: Frank Sanchez, Needmor Foundation

Panel:

Monica Acosta, Padres y Jóvenes Unidos

Damaris Gonzalez, Houston Dream Team

Gabriela Hernandez, NM Dream Team

Viridiana Hernandez, Center for Neighborhood Leadership

12:30pm

Lunch

1:30pm

Panel Discussion: Native Voice: Indigenous Youth Power in Action




Moderator: Sarah Eagle Heart, Native Americans in Philanthropy

Panel:

Autumn Dawn Gomez, Tewa Women United

Lauren Howland, Seeding Sovereignty

Keioshiah Peter, Native Youth Leadership Alliance

2:30pm

Break

2:45pm

Small Group Activity: Weaving Strategies for Youth Power

3:45pm

Closing

4:00pm

Free Time

6:00pm

Youth POWER 2017 Opening Dinner

7:00pm

Local Host Committee Opening Ceremony and Welcome
Friday, November 17th-Crowne Plaza Hotel *Alongside Youth Organizers
Time

Agenda Item

8:00am

Breakfast

9:30am

Morning Opening

10:00am

Transportation from Crowne Plaza to Learning Tours

10:30am

Learning Tours: 5 options

Tour leads:

1. The SouthWest Organizing Project: Art and Gentrification

2. Together for Brothers: Health and Transportation

3. La Plazita Institute: Community Farms

4. Native American Community Academy: Native Youth Leadership

5. Los Jardines Institute: Environmental Justice

12:30pm

Transportation Back to Hotel

1:00pm

Lunch

Funders are welcome to join the youth convening for the plenary at 4pm, and then stay for Funder/Practitioner Strategy Sessions with Youth Organizers at 5:30pm! Please let us know if you plan on staying - email monica@fcyo.org

4:00pm

Plenary: Youth Led Social Change in New Mexico




Speakers: Local Host Committee Youth leaders

5:30pm

Open Space




Options: Funder/Practitioner Rap Sessions, Art making and facilitated group activities

6:30pm

Dinner: Food Truck Rodeo