From Walkouts to Power: Youth of Color as a Moving Force for Change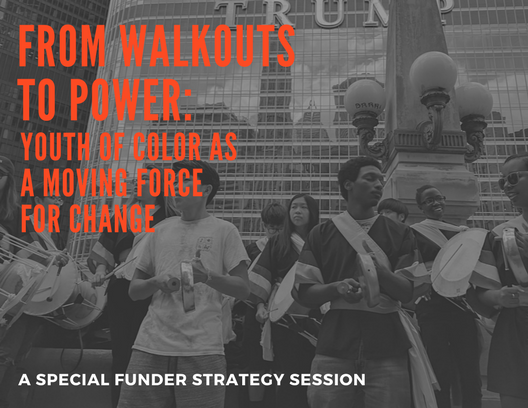 Join the Funders' Collaborative on Youth Organizing on July 9th for a special funder strategy session focused on young people of color in this moment of powerful opportunity.
Over the last few months, youth activists taking action and speaking out for gun control and school safety have captured the attention of the nation. Young people of color played significant roles: leading actions, engaging newly-engaged supporters, expanding the dominant narrative frame, and centering the voices and demands of those most impacted by the root causes of violence.
Now, young people are taking account of the lessons learned from the national moment around gun control and turning momentum into meaningful power at the 2018 elections and beyond. As the leading edge of the new american majority, there is potential that this generation will engage in ways that transform the nation for years to come.
Funders have an opportunity to support this work at a tipping point - FCYO invites interested youth-focused funders and donors to a special peer learning and strategy space to develop a shared response.
Attendees will:
Hear lessons learned from young people of color who have been on the forefront of this movement, connecting the symptoms of violence to root causes of injustice. Speakers will include current Youth for Safety and Justice Fund grantees, and young people who planned actions around the March for Our Lives and the National Student Walkouts.
Learn from youth organizing leaders about what it will take to move beyond effective actions, beyond voter engagement, to a full realization of community power.
Engage with FCYO staff and youth organizing funders in discussions and activities with the goal of amplifying and and sustaining powerful youth-led change for communities of color.
**UPDATE** Speakers will include: