This is the first in an ongoing series of stories the Funders' Collaborative on Youth Organizing (FCYO) is curating from young people and youth organizing leaders from across the country. These stories will uplift the voices of young people from across the country, sharing their journeys into youth organizing, and what it has meant for their personal development and the empowerment of their communities.
If you or someone you know would like to tell your story, contact us.





"It's really about students and
youth seeing that they have support."
Do you wanna create change in your community?
Recent Findings
Research has explored the links between youth organizing and positive developmental outcomes for young people, mostly focused on the areas of civic engagement and education:
Higher civic engagement in early adulthood relative to peers (Rogers & Terriquez, 2013)
Higher enrollment in four-year colleges relative to peers (Rogers & Terriquez, 2013)
Increased sense of agency and civic efficacy (Kirshner, 2009; Shah, 2011)
Increased educational motivations and aspirations (Shah, 2011)
Careers in education or change (Conner, 2012)
Commitment to staying in school (Conner, 2012)
In middle school, I saw a lot of my friends taking the pathway into gang violence. I started to internalize and develop this hatred for living in my community and also the impacts on my family, living in poverty, we all lived in our living room for a great while. Some of my family lost their jobs, and my brother was incarcerated three or four times – we've definitely been a family impacted by the prison industrial complex. Going into high school, I'd already built this very dark, angry attitude and this all-around animosity for my community and I didn't know any outlets. I didn't know who to go to, I didn't believe in change, I was almost recruited into a neighborhood gang. I really needed social and emotional support.
I was walking around a [school] club fair and saw this big banner that said United Students. When I approached that table, the person recruiting was a site organizer with InnerCity Struggle. The first thing they asked me was "Do you wanna create change in your community?" Of course I was going to say yes, but I was just in awe. [I thought] There's no way one person can create change, so I was really shy, not too hopeful. But then I started getting more involved with United Students and became more active, started claiming my voice, and started to connect systems to oppression and why certain outcomes were happening in my community; that were not the fault of my community, but [the fault of] larger systems – institutional systems that were failing us. My critical consciousness expanded, that internal hatred started to leave, and (I began to) develop and blossom into an activist, a warrior, and a critical thinker. I really took that with me all the way to college as well. I went to UC San Diego and started organizing there, using the skills that I was exposed to, and taking it wherever I wanted to organize.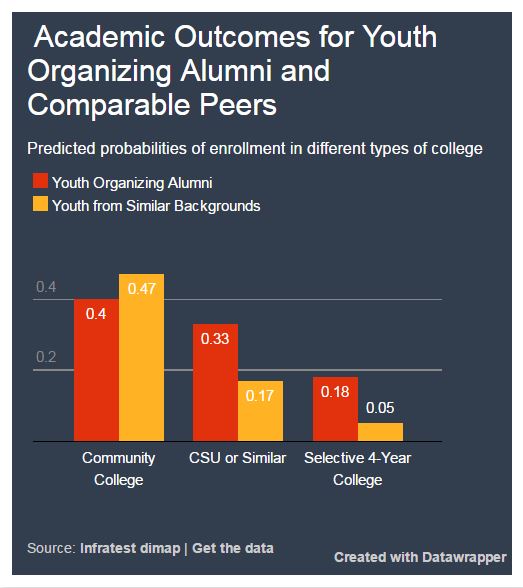 Implementing and Sustaining Change
Recent Findings
The first installment of FCYO's Occasional Paper Series outlines six specific competency areas that youth organizing helps develop in young people, including Political Competency. Political Competency is an increased understanding of the value of traditional institutions (i.e., schools), an increased ability to negotiate public and private systems (legal, welfare, education, etc.), and a willingness to critique and change unjust conditions. With political competency, young people are capable of holding individuals and institutions accountable.
J-Mo now works with young people at high schools across Los Angeles to campaign around school policies. She found that while winning campaigns is exhilarating, it is often only the first step in a long process to get real change implemented.
Here, J-Mo shares some reflections on the challenges of some campaigns.
One of the asks when we went back, was to create a task force that would oversee the phases to roll out the A-G curriculum. When it comes to the implementation fight after campaigns, accountability is definitely important: Is there a budget? Who's leading it? How does it look when it gets to our schools? We've passed so many campaigns, it's like we passed that campaign, and the second fight is the implementation fight. How do we keep the momentum going, how do we think about this in a different way.
The A-G campaign that passed in 2005 was around how schools were not mainstreaming, or making readily-available in large capacity, college prep classes to all students, particularly the south side and east side. InnerCity Struggle, along with other organizations, took to the district, [demanding] that they need to adopt and mainstream A-G as the actual high school requirement curriculum. Since 2005, we've revisited the district to push more accountability on them to roll that out.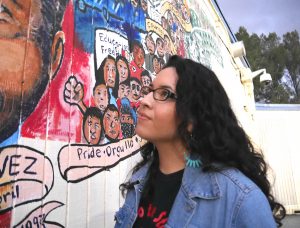 That particular task force for the A-G campaign is to really approach students with a holistic framework. We are focusing on academic progress as well as how can we better our school climate to support academics. For that reason we fought for the School Climate Bill of Rights resolution in 2013. This was to practice a framework that, in order for our students to succeed, they need to be healthy and learn in positive and non-punitive environments. Instead of just suspending students, to really look at their needs. We saw that in South Central and East LA, a majority of students of color were being suspended at higher rates and were losing a lot of in-class instructional time and that's not what the district wants, and it was because of suspensions. Now, we're starting to see that schools have restorative justice counselors, which is really good because a restorative justice counselor will come in and really look at the student holistically – what will they need to prosper as a student that's not solely academic.
"If we're going to keep the services and the resources that we fight for, we have to make sure it can sustain itself in the long run."
Another campaign in the implementation phase is the Wellness Centers Now resolution, which allocated particular money that California voters had passed, around [school] facilities. This was money that went into building [school-based] wellness centers. One of our schools, Roosevelt High School, just got approved for [a future] 5,000 square foot wellness center. What we have had to trouble shoot is sustainability. If we're going to keep the services and the resources that we fight for, we have to make sure that they can sustain themselves in the long run. We create the first step, then continue to roll it out. It looks different from all directions – from meeting with districts, to parents, teachers, students, to meeting with stakeholders – [in order] to get everyone on the same page because we're also conveners. As we're doing the organizing, we're also doing the convening.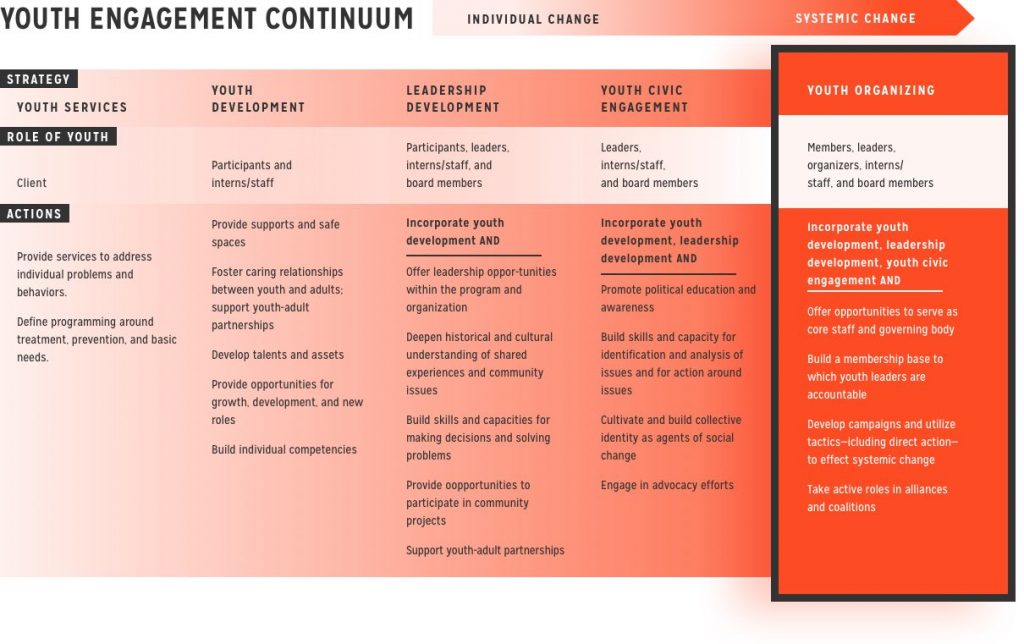 Why Youth Organizing?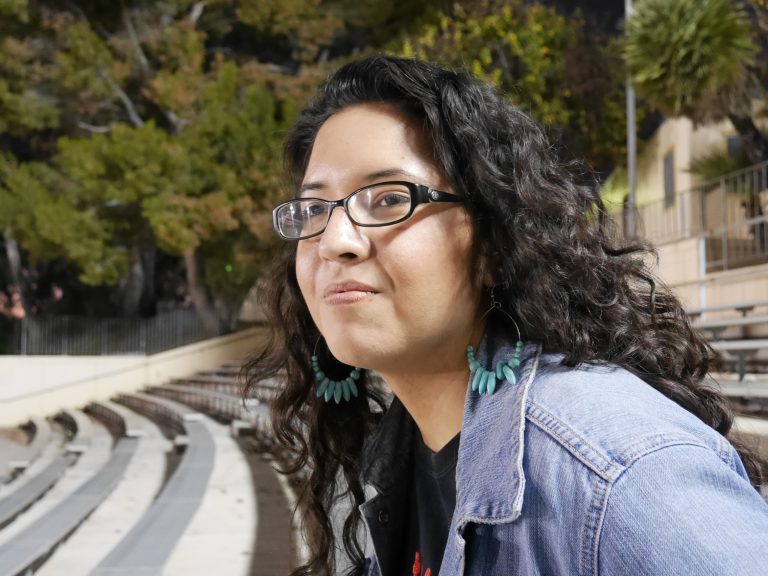 J-Mo recognized the impact youth organizing had on her own civic engagement, and now sees the impact on the young people she engages with in her work at InnerCity Struggle. FCYO has long championed youth organizing as the entry point on a lifelong "Leadership Pipeline" which develops young peoples' leadership and civic engagement and supports their transition to higher education, employment, and future opportunities. In this last section, J-Mo discusses the long-term benefits she sees, which extend beyond the sphere of social sciences, young people take the skills they develop in youth organizing and apply them to whichever route they choose in life.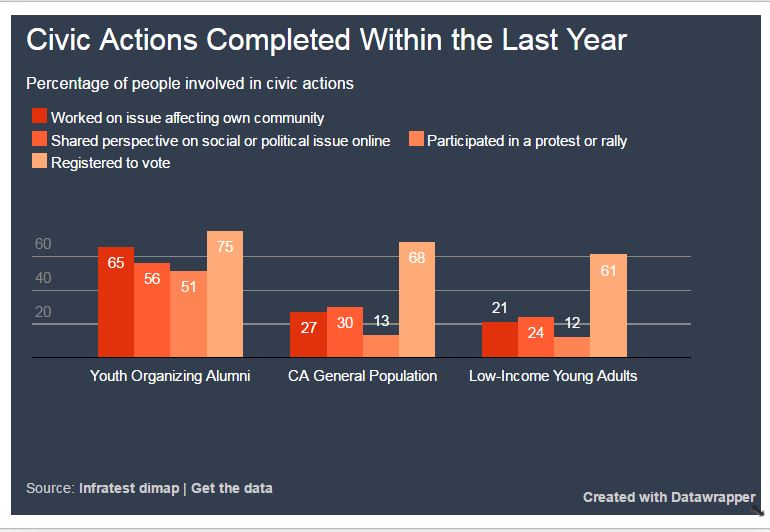 Youth organizing is really grounded in mentor-ship and in guidance. I've seen students who come into this program who are shy and very reserved. When they start to invest more, and when we start to pull them in a little bit more and really open the space for them, they start to own their voice. They start to develop critical thinking skills, even their families see it too. We've gotten emails from parents or calls and they're just like "My son has developed this sense of duty to this community, he's very outspoken about this freeway being built in our community, he says'environmental justice' and I don't know what that means and we've had a conversation about that and he said he learned it from you all," and I really think that's great, because they take a stand. We're developing youth that are taking a stand for what they believe in, and what we're sharing and what we're learning is justice. When I talk to my friends and they're like "What is youth organizing?", I tell them, "It's mentoring youth, it's for them to critically think about their surroundings, and it's for them to think in a justice framework."

It's so much deeper than having a meeting with youth and doing a lecture or doing a workshop. It's meeting them where they're at. It's really about students and youth seeing that they have support, especially in these communities that do not have programs like this. We keep in constant communication with them and we see their growth.
"If we're meeting the students where they're at right now and they're not understanding the world around them, we mentor them, and they grow up to be these adults that are involved in civic engagement."
We see [young people] from when they come in to when they graduate, and we see what they do when they go on to a four-year university or when they go into the workforce. They're so passionate about their community and it kind of relates to my own story. If we're meeting the students where they're at right now and they're not understanding the world around them, and we mentor them, then they grow up to be adults that are involved in civic engagement. (Adults that)vote at higher rates, that are very opinionated about their surrounding, that join other nonprofits, that become part of other movements, or their skills are utilized in a different workforce for instance, engineering.
You could use any skills you use here in an engineering space, they're not totally disconnected – from critical thinking – if an engineer is going to build something, they're going to think about their environment, and their environment is going to influence how they think. If they come from this environmental justice background and they're now an engineer, they've learned those critical thinking skills here, they're going to be a more just-engineer, a more-critical thinking engineer, because it's not just about the building, it's about how people interact with that building. And they now have learned that in youth organizing. Youth organizing is really a multi-faceted skill that we practice here and the skills that they develop, they take with them in whatever direction they go, from being a lawyer, to a doctor, to an engineer…anything!
For more information on youth organizing go to www.fcyo.org, where you can access the latest research on youth organizing, check out FCYO's innovative programs in support of the field and access an interactive map and living landscape of the youth organizing field.