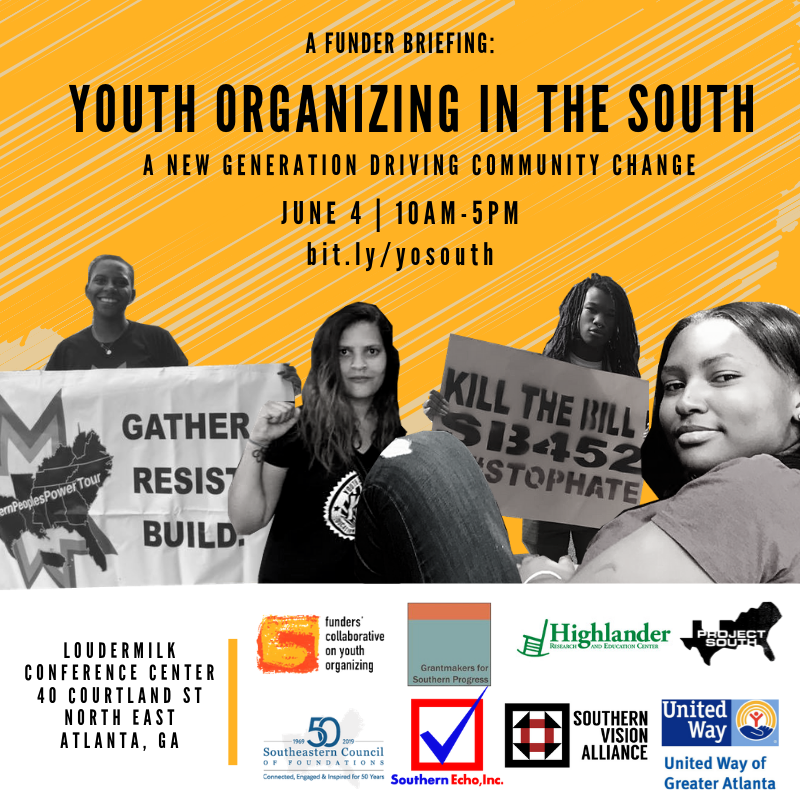 FCYO Southern Youth Organizing Briefing Statement on Abortion Bans
The Funders' Collaborative on Youth Organizing (FCYO) is hosting a funder briefing on Youth Organizing in the South on June 4 in Atlanta, GA in partnership with several Southern funders and youth organizing groups. Over the last week, both Georgia and Alabama have passed some of the nation's most restrictive anti-choice laws. These laws are blatant attacks on women especially young women of color. They deny basic human rights to bodily autonomy and health care.
In some sectors and industries, including philanthropy, there are calls for boycotts of Georgia and Alabama in response to these attacks on fundamental rights. We say that these events show why philanthropy must show up stronger than ever to support the frontline organizations that will be contesting these and any efforts that threaten the civil and human rights of people living in the South. We urge funders from across the country to join us on June 4 to learn about the powerful organizing led by young people from all over the South on this and many other issues. We believe it is critical to continue to have this event in Georgia to show support for the critical organizing there.
According to Dr. Krystal Redman, Executive Director of Spark Reproductive Justice Now, who will be speaking at the June 4 event:
"In this fight, it is important to acknowledge that anti-choice legislators occupy the Governor's mansion and they have the majority in the House and the Senate, but still HB481 only passed by one vote. This is hugely due to grassroot organizations, like SPARK Reproductive Justice Now!, Inc., who continue to fight everyday for our reproductive rights and justice. Because of the pressure we have applied, we have been able to capture a national audience and draw in more funders who want to stand in the fight for Reproductive Justice. This is a critical reproductive justice and public health issue specifically for Black, brown, indigenous, Trans and Queer folks who already have severe limitations to access to affordable and affirming reproductive and sexual health services and healthcare coverage. It would be very disheartening to see our financial partners take a step back because we lost one battle by one vote. This is not the time to step away or take your eyes off of Georgia. Georgia is shifting and will soon have leadership that reflects our commitment to justice. Now more than ever, this is the time for Georgians and our partners to stand together as a way of building collective power."
A statement from Spark Reproductive Justice Now can be found here.
These recent events highlight the need to build strong intersectional movements for racial, gender, and economic justice. At FCYO we believe that, for these movements to be successful, gender oppressed young people, young people of color, and working class young people must play leading roles. Nowhere is this more true than in the South, where some of the most oppressive laws have been tested and where some of the most powerful movements have been sparked. Please join us on June 4 to learn how funders can support this necessary work.
Forward!